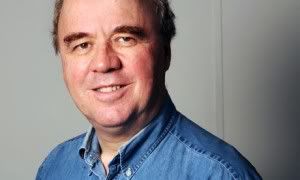 Andrew Brown
When I first started doing atheist watch I would never have dreamed of saying directly that New atheism is fascism. I think it's been not well proved that it is, but also is becoming commonplace to find people saying so. In the old days when I would not say it but vegly hint in that direction by using graphics of Nazis or soemthing, which wasn't even meant to convey a literal idea that they are fascist but just a metaphorical association, Hermit would throw a fit. For a long time the only people who had the guts to really take on the totalitarian ideas of the new atheist were fundamentalists. This made it very easy for Hermit and other atheists to ignore it. They were able to just write it off as the insults of stupid "fundies." They can't write it off now becasue of who is saying it. I find a lot of people alluding to it, not all of them funides. Here are two of them are card carrying leftists. One is a reporter for the Guardian. They are atheists themselves and clearly well known as left wing journalists and writers. By "left" I don't mean liberal I mean it in the commonly used political connotation, Marxist or quasi Marxist or some form of socialism. The Guardian is clear unarguably at the center of America's left wing Socialist journalism. The third one, Robert Write, is described as "agnostic" is not a leftist but can't be identified with the right either. more of a neo-liberal. Some might argue that Ne0-liberal is right wing. It's not capitalistic in it's thinking, it's a sales job for one-dimensional man. Not anywhere near the Fascist/fundie tea party wing.
He describes himself
as "secular humanist."
Andrew Brown
(writes for the Guardian, Orwell prize winner--he's politically astute) says that New Atheism is a movement. More than just not believing in God.
What would be interesting in comments is if people would score themselves out of six. I expect that one of the most common forms of disagreement would be to claim that you are a three or a four, but none the less the believers are so repulsive and dangerous that the other two points just don't matter. That's how politics works, after all, and the new atheism is interesting as a political or social movement, not an intellectual one.
New atheism is still at the stage where it's trying to deny that it is a movement. We are making progress just to establish that it is. Brown sees it is a political movement, but says it's not an intellectual one. As though we need an expert to tell us that. Yet he does tell us that. He tells some more interesting things that we will be observing. He basically lays out an ideology that he extracts from the major writers of the New Atheism. While their members are busy having hissy fits denying that they have an ideology, here's a guy who makes his living studying ideology telling us that they have one. We will be looking at it more in depth latter in the week.
Brown sees new atheism as a political movement that scape goats religion for all the evils of the world, and conducts a witch hunt to eradicate it.
In part this is difficult because the new atheism is largely a political and social rather than an intellectual movement. In some ways it can be understood as the canary in the coalmine of American power and exceptionalism. Before the crash, when it was possible to believe that globalised capitalism would go on making us richer and more liberal forever (at least if you didn't read John Gray) the new atheism was one of the few ways to express disbelief and fear and loathing in the way the world was going. "Religion" became a synecdoche for everything that might go wrong, so that belief in the evil qualities of Faith was not so very different from belief in the evils of witchcraft.
Why not think of New Atheism as a religion? Brown quips that he doesn't think of religion as a religion.
Note, this is not a claim that the new atheism is a religion. I don't actually believe that even religion is a religion in the sense that there is one thing or mode of thought which the word describes. But one of the ways to examine religion is as a set of shared stories and characters which explain what is happening in the world, and the new atheists, with their urgent, apocalyptic message about the dangers of faith, certainly offer that.
Jeff Sparrow is an Australian leftwing writer, editor and former socialist activist based in Melbourne, Victoria.[1] He is the co-author of Radical Melbourne: A Secret History[2] and Radical Melbourne 2: The Enemy Within[3] (both with sister, Jill Sparrow). He is also the author of Communism: A Love Story[4] and Killing: Misadventures in Violence.[5]
Where have All the Progressive Atheists gone?
New Matilda.com
Melbourne is bracing for an influx of atheists next year - and that means oh so many right wing war-mongerers. It's getting hard to tell a New Atheist from a neo-fascist...

Example, Sparrow turned to Hitchens:
Consider the headline act for both events, Christopher Hitchens, a man who, without undue hyperbole, might be described as the preeminent war-monger in the intellectual world today.
Let us recall how Hitchens wrote about the war in Afghanistan back in 2002:

"It is … impossible to compromise with the stone-faced propagandists for Bronze Age morality: morons and philistines who hate Darwin and Einstein and managed, during their brief rule in Afghanistan, to ban and erase music and art while cultivating the skills of germ warfare. If they could do that to Afghans, what might they not have in mind for us? In confronting such people, the crucial thing is to be willing and able, if not in fact eager, to kill them without pity before they get started."

Impossible to compromise … kill them without pity: the phrases read like a parody of a militarist demagogue or some ultra rightist general. But they are, alas, characteristic of Hitchens, who has championed — enthused over, even — every military conflict launched in the war on terror, as well as several (Iran, North Korea, Somalia) that have yet to get off the ground.

For Hitchens, the achievements of the American agnostic community in spreading secularism are nothing compared to those of George Bush and the US armed forces.
Ah, comes the response, don't worry about Hitchens' lust for blood. He's coming to Australia to discuss atheism, and atheism is, we all know, inherently progressive. But that's precisely the problem.

The so-called New Atheist movement, in which Hitchens is a key figure, is not progressive in the slightest. On the contrary, it represents a rightwing appropriation of a once-radical tradition — and it's well past time that so-called left-wingers, both in Australia and elsewhere, stepped up and said so.

Yes, it's true that the New Atheists do polemicise against the Christian establishment. You can find any number of YouTube clips of the various superstars of non-belief befuddling some hillbilly preacher or pompous cardinal with facts about evolution or knotty contradictions in the Bible.

And for those of us who don't believe in God, there's a certain visceral satisfaction in reading a witty takedown of this or that Christian conservative. But, in reality, the Christian Right is increasingly irrelevant to real power in Australia in the 21st century.
Most of Sparrow's article is about Islam. The atheist attitude toward Islam and terrorism is racist and pathetic. PZ Myers made an answer to Sparrow and Sparrow responded. I find it telling that article has now been taken off the net, or it's timed out but for some reason it's not available.
http://web.overland.org.au/2011/06/the-left-the-right-and-the-new-atheism-a-response-to-pj-myers/
Robert right
American
journalist, scholar, and
prize-winning
author of best-selling books about science,
evolutionary psychology
, history, religion, and
game theory
, including
The Evolution of God
,
Nonzero: The Logic of Human Destiny
,
The Moral Animal
, and
Three Scientists and Their Gods: Looking for Meaning in an Age of Information
. He is the co-founder and editor-in-chief of
Bloggingheads.tv
. He is a Senior Fellow at the
New America Foundation
.
[

1

]




In Why the "New Athesits are Right Wing on Foreign Policy"
Huffington Post

He attacks Hitchens and Dawkins as right wing.



It must strike progressive atheists as a stroke of bad luck that Christopher Hitchens, leading atheist spokesperson, happens to have hawkish views on foreign policy. After all, with atheists an overwhelmingly left-wing group, what were the chances that the loudest infidel in the western world would happen to be on the right?

Actually, the chances were pretty good. When it comes to foreign policy, a right-wing bias afflicts not just Hitchens's world view, but the whole ideology of "new atheism," especially as seen in the work of Hitchens allies Sam Harris and Richard Dawkins....
The Israeli and American right join Dawkins in stressing religious motivation in the Middle East, and there's a reason for that. The people there whose political grievances are most conspicuously caught up with religion are Muslims. If the problem is that Muslims are possessed by this irrational, quasi-autonomous force known as religion, then there's no point in trying to reason with them, or to look at any facts on the ground that might drive their discontent. And there are facts on the ground in the West Bank that the Israeli and American right don't want to talk about. They're called settlements.
He extends the analysis to Harris.
Sam Harris has been explicit in rejecting material explanations of Islamic radicalism. In The End of Faith, while discussing terrorism, he pondered such roots causes as "the Israeli occupation of the West Bank and Gaza...the collusion of Western powers with corrupt dictatorships...the endemic poverty and lack of economic opportunity that now plague the Arab world." He concluded: "We can ignore all of these things, or treat them only to place them safely on the shelf, because the world is filled with poor, uneducated, and exploited peoples who do not commit acts of terrorism."
He follows that up with "
The trouble with New Atheists part II
."
1. Is religion at the root of the Israeli-Palestinian conflict? Richard Dawkins had said yes, and I said no; the conflict between Arabs and Jews started as a basically secular dispute over land and only later got wrapped up in religious fervor. Blogger Paul Fidalgo replied that the reason the Israelis thought they deserved the land was because "it says so in their holy book," and John Snider at americanfreethought.com also emhasized the power of the Bible's "cosmic claims about the Promised Land." I think the words "holy" and "cosmic" are misleading here. The leaders of the Zionist movement were secular (as Snider acknowledges). To the extent that they cited the Bible, they cited it not as a religious text, but as an historical text--to establish that their people had been on the land before the Arabs were. (Just as native Americans might point to evidence that they were in America before Europeans.) Whereas the American Declaration of Independence invokes God, the closest the Israeli Declaration of Independence comes to a religious appeal is the phrase "with trust in the rock of Israel." (That's what it says in Hebrew, though it's often translated into English as "trust in the Almighty".)

I'm not denying that the conflict has become religious, both for some Jews and some Muslims. And I'm not denying that this complicates the solution. My point is just that the prime mover is the conflict over land, and if that conflict is resolved, religious zealotry will start to subside--because, in my view, ever since ancient times [http://evolutionofgod.net/time] , it's been material circumstances, not religion, that has driven "religious" conflict. Richard Dawkins, in asserting that there would be no Israel-Palestine conflict whatsoever if it weren't for religion, is not just wrong but dangerously wrong, because such claims discourage us from working hard to change those circumstances.

Speaking of Dawkins:

2. Is Richard Dawkins right wing on foreign policy? Here is where I'm at fault--not for asserting that Dawkins has right-wing views on foreign policy, but for failing to make clear that I wasn't asserting this. My point was that the new atheists' depiction of religion as the root of evil, by discouraging attention to deeper root causes, furthers a right-wing agenda whether these atheists subscribe to that agenda or not. What I should have said is that they are objectively right-wing (after Orwell's famous assertion that pacificists were objectively pro-fascist regardless of their views about fascism). And I should have thought twice before titling the piece "Why the New Atheists are Right Wing on Foreign Policy"--a title that PZ Myers at Pharyngula amusingly used as an excuse to reject my thesis without reading my defense of it. (My sloppiness of expression notwithstanding, it wasn't quite impossible to grasp my meaning, as my new friend Bonzai showed over at richarddawkins.net.)

Still, of the three people I discussed--Dawkins, Sam Harris, and Christopher Hitchens--Dawkins is the only one I would say doesn't have specifically right-wing views that I know of. (Harris, as I noted, explicitly discourages looking for non-religious root causes of terrorism.)

3. And, by the way, what of Daniel Dennett? He's the only one of the "four horsemen" I didn't mention. Like Dawkins, he's never struck me as right-wing on foreign policy, but as for the question of whether he's "objectively" right wing: Though he doesn't go around attributing evils to religion as recklessly as Hitchens and Harris, he does something that is the rough generic equivalent: Like Dawkins, he refers to religious beliefs as "viruses" of the mind.

Now, viruses, generally speaking, are parasites; when they have a discernible effect on their host it is almost always negative. And, more to the point, the popular understanding of the word virus is that it implies parasitism. Would Dawkins and Dennett say that religious belief is always, or even usually, parasitic in the Darwinian sense--bad for the reproductive prospects of the host? If so, how do you explain the number of Catholics in the world? In light of the fact that sometimes religious belief (however mistaken it may be) manifestly helps people flourish (and even helps them preserve their mental health), while other times it gets them killed or makes them crazy, the proper term for the God meme isn't "virus" or "parasite" but the neutral "symbiont." (When a symbiotic relationship is good for the host, it is "mutualistic" and if it's bad for the host, then it deserves the label "parasitic".) That Dawkins and Dennett have so casually used the term "virus" would seem to reflect an intellectual sloppiness that neither of them practices very often. It's almost enough to make you wonder whether the new atheism, like religion, might sometimes be parasitic on the reasoning power of its hosts.



These are not the only people who are not right wingers who call New Atheist "fascist." None of them really think that New Atheism is identical to the movement of Benito
Mussolini, it's just that they seem reflect a totalitarian bent.


Next time I'll go into depth upon the Totalitarian Nature of their ideology.