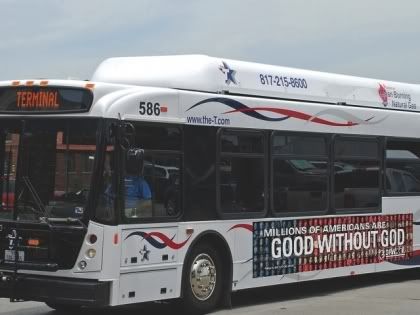 Atheists are always denying that that they have an organization. they just a loose collection of people with one thing in common. What is that one thing? you might think it's that they happen just not to believe in God? No that's not it, they can raise money for bus signs and bill boards around the country to ruin other people's special time.
They also have campaigns in England, New Zea land and all over. It's clearly more than just a loose collection of people with lack of an idea in common.

CBS ch11 DFW




FORT WORTH (CBSDFW.COM) – An atheist group in North Texas is launching another advertising campaign this week, and after hearing about it, some Fort Worth religious leaders are planning to boycott the company providing the ad space.

The DFW Coalition of Reason announced Monday that it will be using bus billboards in Fort Worth to spread the gospel of non theism during the month of December.

Signs that read 'Millions of Americans are good without God' will appear on four buses belonging to the Fort Worth Transportation Authority, better known as 'The T' through December, a time many are celebrating religious holidays.

Joan Hunter, spokeswoman for the T, said the signs will not be on the buses before Monday, Dec. 6. Production of the boards took longer than expected because of the Thanksgiving holiday.

In April of 2009, also a time of religious holidays, the DFW Coalition of Reason launched a similar billboard campaign, placing billboards along I-35E in Dallas and I-35W in Fort Worth. Those Billboards read, 'Don't believe in God? You are not alone.'

The Coalition bought the ad space on four buses for $2,600. The campaign runs through the beginning of the year.

The T runs 180 buses through the city of Fort Worth.




Obviously they have a national organization. who has time and effort to put into that. I find this to be a hateful thing. Who campaigns against other people's Holidays?
the Blog
Faith and Theology
offers a contest to come up with the best slogan for the sign. here are some suggestions. they have 91 comments but I'm not satisfied with what Ive seen so far so here are a couple of my own.
"Well how about your big stupid invisible pink sky pixie, is he going to give you a good Christmas?"

"you better not cry, better not pout, I'm telling you why becuase the flying spaghetti monster is being defined into existence."
Only 26 more days to mock and ridicule Christian posters before their big holiday.
It's a lost art.