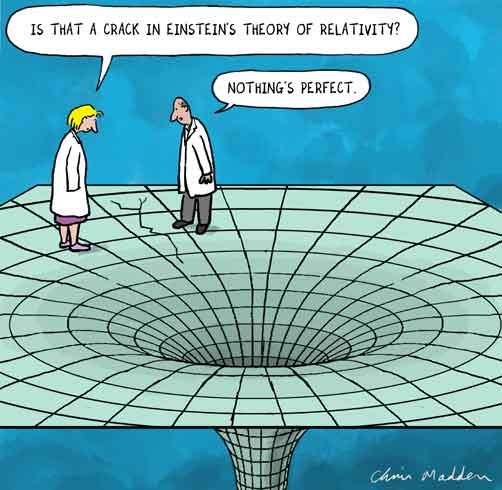 Atheists regard scinece in a way that Chrsitians regard God. it's the center of their universe, for many their
Raison d'être
and functions in their universe the way God does in the believer's universe. Yet can they spot a scientific principle when they see one, if it's outside the context of science vs religion? Can spot a scientiic principle when it supports religion? That would explain why they have no respect for 200 studies in acadmeic journals saying that religous expereince is good for you.
On Carm I proposed the idea that truth of Bible doctrine stacking up to personal experience in modern life is a principle of verification. what they do transmute that to? It began with their argument that there is no content to the concept of a personal relationship with Jesus because such relationships cant' give us verificable evidence about Jesus life apart from what's in the bible. I of course said that relationship is not about just geting a list of facts. Just as saying that you know someone is not just about knowing a list a facts about them. Actually knowing what it's like to spend time with a particular person is not the same knowing a list of facts, such as his hair color, where he was born, what food he likes, ect. Actually nkowing a person includes nuances you can't get on paper. this is way over their heads they don't even understand it.
Originally Posted by
Bob Carabbio
Meta
That's in two different senses. No one says it invovles only what's in the bible but it can't contradict the bible directly. that is the check of verification.
The idea that you can spot the truth of the doctrine in life and it stacks up with personal experience is a principle of verification.
Then one of them proves he doesn't know scinece when he sees it.
Originally Posted by
Metacrock
It's confirmation bias - you "experience" things about Jesus that tie in with doctrine, and not only is the doctrine "verified", your relationship with Jesus is "verified".
Originally Posted by
MarkUK
that's not what we are talking about. We are not talking about only feelings. We are talking about behavior. Answered prayer, intuitive sense that pays off, noetic aspects of mystical experience and the like. Noetic is not just feelings it's put into content such as one has a sense of having learned something from the experience.
everything is one
God is love
life is sacred.
Originally Posted by
MarkUK
no I did not say that. you are inferring that because you can't think honestly. You assume faith is not a link to a reality. I do not assume that. you are reading into my statement what you wish was there.
faith is evidence, it's indicative of a reality that prompts it to be.
Rampant fear of feelings is a sign of no mental maturity.
Originally Posted by
Deist
Meta
If all I knew was the words I could give you words. that's totally stupid. they can't put it into words therefore all they know is words in a book. what sense does that make?
Deist
Yes. It makes perfect sense. People memorized a book.

Meta, I've ran threads on just what an "experience" is, and it draws bland stares and anger. Airy fairy reports such as "I felt wonderful, or I was at piece, or I experienced the divine, or blah blah blah". All of Christianity is a claim, a contention, a theory. A kind of punishment and reward system similar to the Pavlov's dog experiments. Humans give themselves feelings. They don't come from some entity entering ones body or mind. That is just a claim, unproven and unfounded. The claim is made because OTHERS have made similar claims and people don't like to be left out of the party so they make their own claims. But..........when pressed, the mumble and stumble and stammer and stiggy.
Meta
I just disproved that. I said if it was just a matter of knowing worsd on paper then I would words to fill in the blanks. I could say "the content is 'love your enemies' as oppossed to saying "it's beyond words." We can't describe the unspoken neuonces of being with someone we know, even when it's a tangible flesh and blood person. That's like saying "try to describe what it's like to spend time with your father without using any conventional English expressions or words form your language. You can't do it because the only way to express clear and distinct ideas is langue. The unspoken sense of a presence is unspoken so it's not language.
The some might get angry when they are frustrated by a question is not proof that they have no basis to their experiences. they are probably getting angry at your obstinate behavior and refusal to listen to what they say. You never can connect their behavior to your treatment of them.
If God is communicating the truth of the bible and if he gives us the bible for a check on truth why should he go beyond it in communicating personally? no is saying that it doesn't go beyond, but it can't contradict it.
you totally miss the point that it verifies the truth of the doctrine.
Originally Posted by
Deist
That's not a reason. Ideas are in the mind. so one should be able to undersatnd ideas and thus fiction induced in the mind should have ideas that go with it.
Meta
the point of the verification principle is we can see those ideas played in life and that he teaching on them works and proves true. It's not goo gaga feelings it's truth. when someone can stand up tot he problems of life and get through them because of their faith that proof that it's real and it matters. You want to write off anything connected to feelings you will have to write off your hatred of God and Christians.