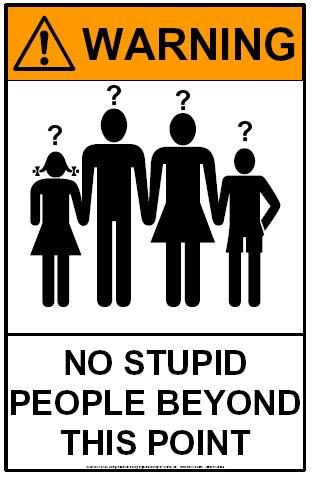 Stupid atheist tricks: supporting argument for incredulity!
As incredible as it may seem this atheist actually defends the notion that logcial fallacies, some of them are valid arguments merely becuase it's apologists who point them out. If apologists point out the bad logic then it must be good logic, (HU?)
Originally Posted by
Metacrock
what? you are saying your fallacious reasoning is better in some way than mine? that's nonsense. A fallacy is a Fallacy. Argument from incredulity is not arguemnt at all
Only apologists say arguments from incredulity are no good. Otherwise, we are forced to believe in Heavens Gate and Mormonism, along with Hari Krishna, and Jerry Falwell. Not to mention the Elvis resurrection.
Originally Posted by
Metacrock
Unless you believe in fairies and hobgoblins, arguments from incredulity are valid. To say they aren't is just an apologist trick to divert to discussing why fairies may be possible, and to suggest that since one can't disprove fairies, they are probably real.
another guy posts this fairy Garden nonsense.
http://www.fairygardens.com/sightings/adult1.html
Meta:
incredulity does not disprove this. You are confusing the rejection of unreasonable claims with argument from incredulity. Its' stupid to think that Thomas Ananias is on a par with stuff like the fairy deal. You are not saying the same thing as "I refuse to believe therefore it must be false" when you say "I can't believe that because it's too outlandish."
In the first case the truth of the assertion is based upon rejecting or accepting. So you are litter allying it's rejecting it that makes it false. You are confusing that with having reasoning pertaining to soundness and reasonably.
It's not unsound and unreasonable because I reject it, I reject it because it's unsound and unreasonable.
another example where Deist rejects argument from analogy as a fallacy.
Then he also defends argument form analogy.
Originally Posted by Deist View Post no 11
"Sorry, Meta, I don't buy into the apologists tricks. Analogies are very aprapo. Otherwise, people have to spend a lifetime discussing whether or not Mohammed flew to heaven on a winged horse."
Pointing out fallacies is an apologist tirck. At the very least htat means he's not only badly read and doesn't know logic but he's too lazy to look it up.
that's two informal fallacies that he's been willing to accept just because apologists use them. This should be known to all it's common knowledge and easily found on any site (not atheist) that discusses logic. Argument from analogy is not proof.
(in the TNG episode where Data lost on a world just discovering scinece he tells the woman doctor as a refutation to her argument 'you are arguing from analogy.')
It should be obvious at this point that atheism is not a movement for intelligent intellectuals. Its' a movement for the unwashed masses who don't think. It's for attention starved high school kids who are angry at their parents and churches. What about all of those atheist websites. While they pout all sorts information into them to enable them make bad arguments why don't they educate them about logic?