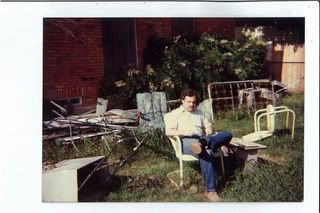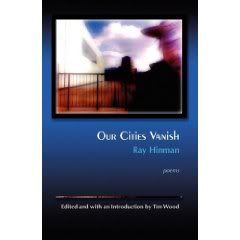 buy the book
Also be aware I open debate
on CARD blog
with Bradly Bowen of Secular Outpost in the topic of historicity of Jesus.
Ray Hinman was my Twin Brother and he wasw a totally brilliant poet
Ray Hinman Returns the strength of History and culture to language. Unashamed of thought,uninhibited by the current fashion of poetic anti-intellectualism,Hinman speaks from a foundation of tradition freshens his structures with the touch and nature. Definitely modern, he unites civilization across time, refuses to surrender to the triviality of high technology,though hints that our era stands out in defiance of human greatness. His rhythms flow with the love of language's music, like the Whitman whose ghost tours the city, he finds in the urban tableau the clues to what we search for in clustering into cities.
The Ex-Missionary Learns Mexico
After the rain we came into the low
country, the hills unrolled beneath us,
pitted with aroieas, green aloe vera plants concealed basins where water stood;
hidden from high ground like secret lakes.
We climbed from our horses and looked into
a pond, our faces shining against sky
and cloud.
There is nothing holy about hidden things;
chance has it's own way of breaking monotony
as one mile slinks
into the dust of another, but in this place
(out of mill ions allover the desert)
what seemed so dry from the trail's rim lay entangled with fertil ity, floating
in a bath of sky.
For years I had learned the desert from train windows, it's beauty no more than swirl ing dust, but when our faces rippled over brown roots,
dark as cinnabar, shooting into leafy green ... the vistas around us rose in vapour and begged
for a drink, in the distance a vulture called, and hundreds of zacadas; the hil Is rose
above us like domes.
Whitman's Ghost Takes a Tour of the City
The goddess sits in the axhandle park:
Hobos Near Tacoma
Bridge above the gorge,
lights of tightwadded Tacoma.
A Chaff blown state,
sunlight yellow, wheat field yellow.
Everything gritty is also smooth:
riverbank, bedsoil, rescue mission grit.
Like polished stone or sanded wood,
the view from any part of town
takes in the polish of lyrical land.
The bridge spans the gorge,
the trail leads to the bank like perdition.
Fifteen campfires pinpoint the bank,
even the stars lack shelter in Tacoma.
Our Cities Vanish
Our cities will vanish
the way they were built,
in flurries of greed and seduction.
Dallas for instance,
was founded by Appalachian
Pariahs,
lean men with gaunt faces
and a burning in their eyes.
Now another Dallas has sprung up
where they built,
a Mecca for the mercenaries
wrapped in steel glitter,
wrapped in gold glitter, burning as brightly
as their lust.
Practicality is their monument
to their fathers.
Practicality,
the faith of Pariahs:
the gleam of a bauble pawed by cats.
When pressed
they will admit truth is beautiful.
Nature
for instance,
is even more beautiful
when it's mysteries are revealed, and so
they still admire the moon,
praise it,
for remaining such a worthy objective
for their calculations
of trajectory,
they admire Einstein, who "thought up some good physics,"
that will allow them to build other Dallases
on distant planets.
eternity is PROfound.
And yet,
the only eternity they believe in
is the eternal distance between classes,
between races,
between failure and success.

Our cities will vanish
the way they were built,
and return even more mysteriously.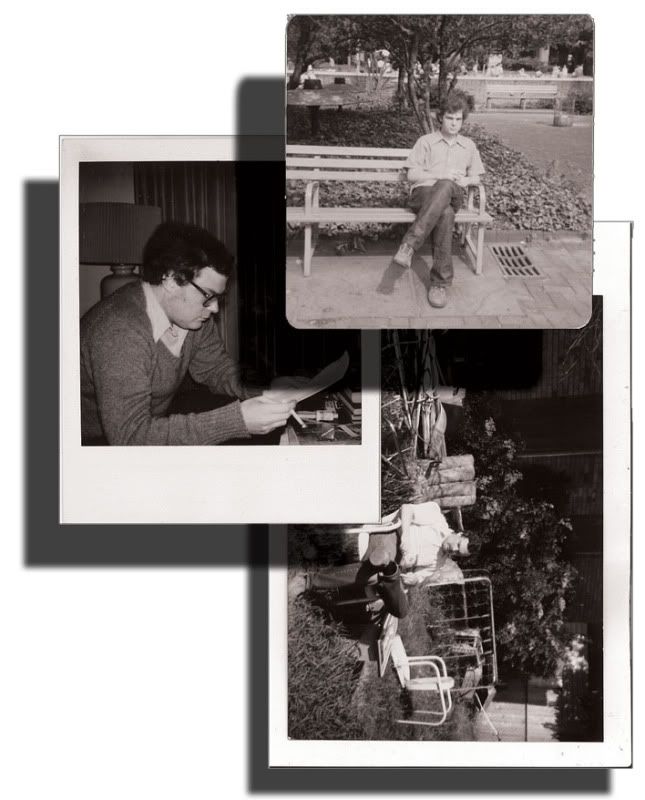 Ray Hinman:
Born in Dallas Texas, along with his twin brother Joe, June 20, 1956. Their Uncle was James D. Harman noted "Beat" poet of the 50s and leader on the West Coast in the "ban he bomb movement." "Uncle Jimmy" as we was called as an influence upon his nephew's style of poetry, along with Wallace Stevens, Yates and Keats.
Hinman grew up in Dallas, he drooped out of R.L. Turner High school his sophomore year in order to receive his GED that same year. He lived on his own for a time, traveled extensively across the United states by hitchhiking. On one trip he went up the West Coast to Vancouver and another trip he went up the East Coast to Montreal. He also spent extensive time camping and living off the land in the American Southwest.
He attended The University of North Texas, studying anthropology. He was a major local organizing in the Central America Movement of the 80s. He worked as an editor for the Negations Institute and their Academic Journal
Negations.
Throughout the years he has published poems in many journals and other publications such as
Interstate
,
Well Spring
, the
Ameba
,
The Word
,
Fickle Muses
and other such publications. He's read his poetry in public in Austin and Dallas.
(more on Ray Hinman)
Born:
Dallas, Texas, 1956, with his twin brother Joe.
Education:
University of Texas At Arlington, University of North Texas (Denton)
Occupations:
Market Researcher; Paid campaign worker; poetry editor (Academic Journal Negations) and fellow of Negations Institute.
Life Experience:
Mr. Hinman has lived in Dallas, Arlington, and Austin Texas. He's traveled extensively around North America, Mexico, and Central America.
1970's
In the early 70's, as a highschool sophemore Mr. Hinman worked as a volunteer in for the McGovern Campaign in the senator's 1972 Presidential bid. As a young man he hitchhiked from Dallas to Colorado. In a Second trip, up the West Coast to Van Couver. In a Third trip, hitchhiked up the East coast to Montreal. He also Attended University of Texas at Arlington.
1980's
lived in Dallas and Austin. In this decade he travailed in Mexico. It was in this decade that he had his career as a Market Researcher in Dallas,Paid campaign worker in Austin, and attended University of North Texas in Denton. From about 86 to 90 a major portion of his life was occupied with volunteer political organizing over the issue of Central America. Mr. Hinman worked with the infamous CISPES group (Committee in Solidarity with the People of El Salvador) of Dallas which is known to have been spied upon by an FBI informant, and Mr. Hinman may have been target of surveillance.
1990's:
Mr. Hinman worked in the anti-Gulf War coalition in the early 90's. He settled in Dallas and began to work for the Negation Institute, first as the contributing Poetry editor for their journal Negations, then as researcher. In the late 90's he spent several years providing full time care for his parents until their deaths.In the 90's that he wrote some of his best work.
After the death of his parents, Mr. Hinman withdrew from society and lived a reclusive existence devoted to study.
Ray died of a massive heart attack on Jan 24, 2014. He was57.
Publications:
Interstate
The Amoeba
Well Spring
Balcones
Negations: an Inter disciplinary Journal of social Criticism
A Rule of Three
(chapbook).