These are exampls of stage 3, gathering to mock the target (FBI 12 step development of hate group ID).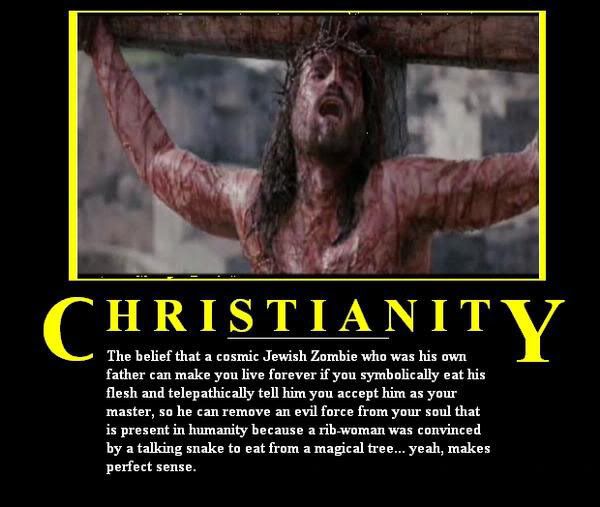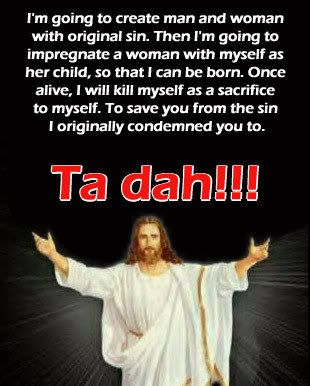 There are many more that little insubstantial theists can drop on message boards all over the net. Why are these act of hate? First of all there is a major probelm with re-describing. In his brilliant novel 1984 George Orwell brings out the basic brutality of re-describing another person's world view or bleief system. That in itself is wrong ethically and its dishonest, but to do it in such a way as to mock and deride their beliefs while passing it off as what they really believe is nothing more than hate, and hat demonstrates the Orwellian nightmare in the atheist movement.
Someone runs an industry selling these things to someone, either used as clip art or bought by those who use them directly, they are sources of money at some point. Their only purpose is to mock and ridicule becuase if the people making them cared enough to describe Christian belief Accurately they would find out what Christians really belief and be sensitive enough to sort out the difference between illogical and cruelty.
Saying that Christian belief is illogical is not hate, that's to be expected and it's the prerogative of those who do not believe in Christian beliefs. But to purposely misrepresent them, to twist them in such a way as to cause ridicule and then pretend that's a frank and honest summary of belief, is evil and stupid.
The only reason someone would use these is because they hate Christianity and they want to make it look stupid, and that is an act of hate.
First we have to distinguish between a fair summary and unfair summary.
If you say "Christians believe X and X is basically saying this, you talk abou tthe logical implications of X then that's fine. But to say "here is my distorted crap taht you don't believe but I"m going to believe that that's waht your beliefs really do mean," that is nothing more than distortion and dishonesty and refusal to respect other people.
these aer not just little games to those who believe. They are very important to us, they are our sacred beliefs, they are part of who we are. When you say "your sacred belief is shit" you are saying "you are shit." Understand?
Now here is why they are wrong.
"the belief that a cosmic Jewish Zombie who was his own father..."
the phrase cosmic does not describe anything Christians belief about God. I don't even know what it means, but it's not part of any Christian belief, and since a modern joke term to ridicule fake swamis druggies in California it's probably there to mock and humiliate.
can make you live forever if you symbolically eat his flesh...
"make you live forever" is not an adequate description of salvation, but let's let that slide because it's close enough for a skeptic. But the actual notion that we are saved by partaking of the Eucharist is not the case, in any version of Christianity. No creed and no chruch I know of says that we are actually by that act. Igantious said that but he's just one chruch father a long time ago and that view did not make it into Orthodoxy. Of course it's phrased in such a way as to make it sound stupid.
telepathically tell him you accept him
describing prayer as telepathic is totally inaccurate and is done so for purposes of distoring and ridiculing becuase it's stupid, it connected it to knew age stuff.
as your master
I guess that's fair enough but it's phrased in such a way as to make it unpalatable to modern people.
so he can remove an evil force form your soul
a total distortion that is used for the purpose of making it sound really stupid. No one thinks that sin is a force or that salvation means a force is removed form our body. Only fundies, get off on talking about demons and casting them out, most Christians don't believe in that, but even then it's not connected to salvation per se and that demons are "an evil force" I suppose fair enough.
That is present in humanity becuase a rib-woman was convinced
evoking mythological claims that not all Christians accept. At least half the chruch doesn't' take it literally. describing Eve as a "rib woman" is idiotic.
by a talking snake to eat from a magical tree
that's the problem faced by inerrentists but it's structured into the whole in such a way as to compound the sense of it begin stupid and mocking and ridiculing. It's also unfair to try and put mocking and ridiculing labels on all Christians for something only about half believe.
the second banner is the same kind of thing. it's a statement in the worst possible light. Mary was not impregnated by God. She may have been artificially inseminated but not has sex with. The overall statement is not reflective of the Gospel. It's dumbed down to make it sound stupid and you nkow it is. You know that it is.
compare that dumbbell talk with real theological statements:
my view on atonement:
salvation and other faiths.